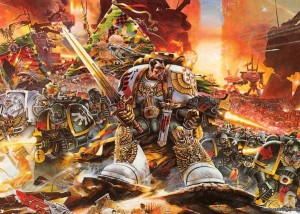 By Big Kev aka "The Rulehammer"
Hello friends and gamers alike. This week I have some good news for everyone.
First, let me congratulate the winners of our Warhammer 40K tournament last Saturday. Tom Schmale (Chaos Marines w/ Daemons allied) took fourth place, getting just edged out by Justin "The King of the Castle" Adams (Necrons), who took third. In second place was Steve "Gloves" Burrows (Eldar), and taking the top spot for his first time after many second place showings was Paul Porch (Space Wolves w/ Grey Knights allied). Well done to everyone who attended!