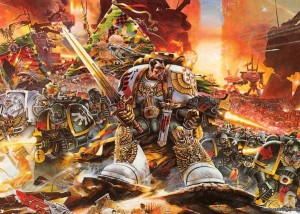 by Big Kev aka the Rulehammer
Hello there fellow war gamers. This week's article will be somewhat short and sweet. First off, we head into the end of Summer and towards the dawn of Fall. This means many things: Fall colors, the end of humidity thick as a sponge, and of course, hurricane season. It also heralds, this coming month, a new Space Marines release for Warhammer 40k.
Now, this is a big army. If you play Warhammer (or even if you don't), you've heard of them. Some of us have even had our pictures taken with them (Gamesday inside joke.) So, I'll wet your whistle with a few rumors I've heard.