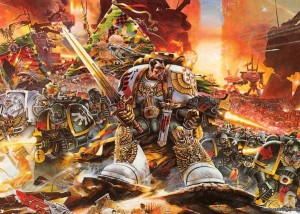 Another weekend has past, and another tournament in the books. For all of you, young and old, new and long time to these articles. Let me thank any reading who attended this event. As well let me congratulate those who placed in first and second.
Those teams being Toms team, in first place and Carlos' team in second. Well done to those two teams. As well as to all who came and fought so very hard all day with us.
As is becoming standard, we'll announce the date and time for our next singles. If any of this changes, check on line on the store web page, face book or in store announcements.
It will be taking place, November 9th, Sign ups at 12, and beginning at 1.
1350 pts, singles, using our in store standard for objective deployment and scoring. 2 hour games, and split into 3 matches. With about an hour long lunch break after the second match.
No mysterious objectives and here are the game types.
Game type Relic Deployment Hammer and Anvil for first match.
2nd Match, The Scouring, Deployment Vanguard Strike
and 3rd and final match, Crusade, 4 objectives, deployment, Dawn of War
So there you are everyone, feast your eyes, start up your lists and we all hope to see you there, November 9th and perhaps you will have one more reason to be thankful this Thanksgiving, if you win.
Keep those sixes strong everyone.
Big Kev aka the Rulehammer