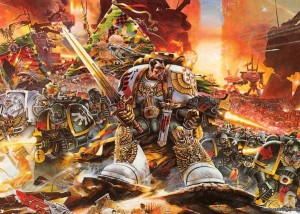 So, we have our week of spooky action upon us once more. Not much I can say of this, in a war game stand point. I suppose we could all field our most, horror movie filled lists. Like zombies and plague mutants for example.
You could, play some arkham horror in board game form, or just indulge in some White wolf game systems, survival horror type rpgs. I know I have from time to time. Though its no mystery, I love this time of year. I hope you all enjoy your halloween and all that entails, watch some horror movies play some games with good friends and join us in store all week long for your evil gaming needs.
I'm happy to say if anyone was interested in Star Trek Attack wing, the game using the same flight path system as Star Wars X wing, we have a large selection in stock, in store right now. As well as still a strong showing of X wing, which hopefully by at least the end of November we'll be re stocked with wave 1 models most people have been dying to get their hands on.
Hang strong, they're coming along with the imperial aces expansion pack. When they're soon to hit the shelves, trust me you'll hear about it asap my friends.
As well, and not sure of the details yet, we should be looking at one last in store sale closer towards end of November, beginning of December for holiday purchases, stay tuned for details in store, on line, and in this article, for that.
This Weekend will lead us into the first of November and a Dark Elf release, if any are interested this was a two month long release, which is a bit special for any single army release for 40k or Fantasy as far as Warhammer is concerned. For exact details I urge you to look at the GW site for detail pictures and descriptions. As well if you wish any, please call the store and order them up. If your like me you do hate to have to wait for hot new models to be in your hands when you desire them now.
As a reminder, just one week till our next Singles tournament in store, second Saturday of November 9th. Sign ups at 12, start at 1 the details should be in store and online, soon. As well as mission types, etc. Its our standard 1350 run size.
So get spooky, try not to eat bad candy and stay out of trouble halloween night.
Big Kev aka the Rulehammer